Jim & Kristi Carpenter here. As of November 22, 2017, we are the new owners of Triple Creek Campground. We moved to Tennessee in 1999 after Jim finished his Army service. While in Tennessee, Jim has worked in law enforcement, and Kristi was a nurse at a local eye doctor's office. Our family loves the experience of camping and the quality time we've been able to spend with our family over the years as a result. We wanted to find that near perfect campground and make it great again! We believe we've found that here at Triple Creek Campground.
Triple Creek Campground Events
---

Events for December 2023
Events Search and Views Navigation
There were no results found.
Calendar of Events
Calendar of Events

| Monday | Tuesday | Wednesday | Thursday | Friday | Saturday | Sunday |
| --- | --- | --- | --- | --- | --- | --- |
| 27 | 28 | 29 | 30 | 1 | 2 | 3 |
| 4 | 5 | 6 | 7 | 8 | 9 | 10 |
| 11 | 12 | 13 | 14 | 15 | 16 | 17 |
| 18 | 19 | 20 | 21 | 22 | 23 | 24 |
| 25 | 26 | 27 | 28 | 29 | 30 | 31 |
View Pricing
Campground Map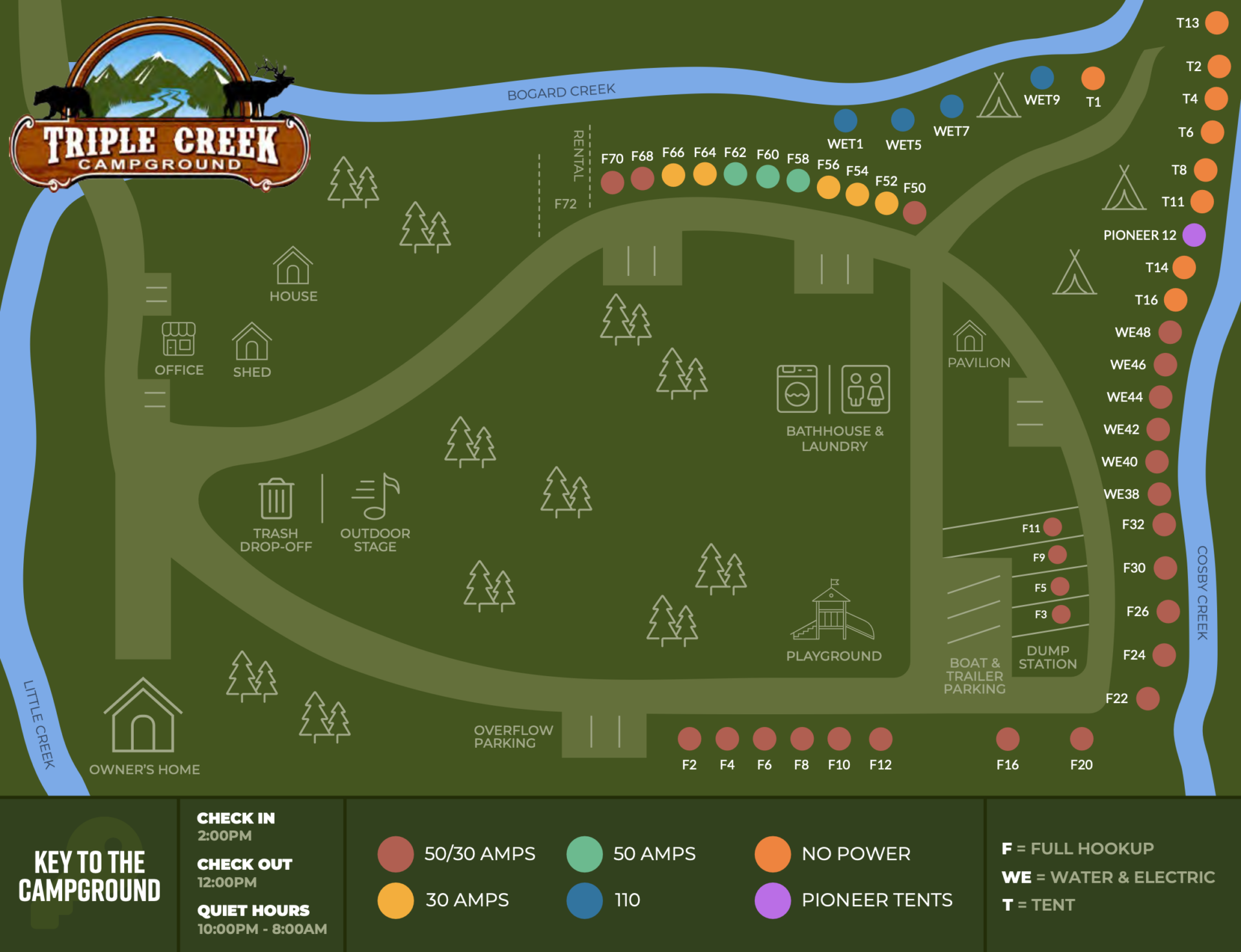 Book your stay
Download Map
campground ACTIVITIES
Fishing

Tubing

Playground

Outdoor Stage / Live Events

Campfires

Dog Walking
Park Policies & Guidelines
Everyone must register in the office. Speed limit is 5 mph in the campground.
Do not give the gate card to anyone.
Children are the responsibility of their parents. Parents need to know where their children are at all times. Children 10 and under are not allowed in the play areas or in the bathhouse without an adult.
No loud vehicles are allowed in the park.
Upon arrival, guests are responsible for all days booked. DO NOT change sites without checking with office. Visitors must check in at the office and pay any fees and must park in designated area. Please ask your guest to leave before 10:00pm.
Please place trash in designated areas.
Guests are responsible for their party's actions.
Pets must be kept on a leash at all times. Do not leave pets unattended. Pets are not allowed in any building, playground. Please clean up after your pets. Do not let your pet annoy others.
An air tight sewer connection is required.
Washing campers or vehicles is prohibited.
NO fireworks.
Campfires allowed only in designated area.
Golf carts must be operated by a licensed driver.
Triple Creek is not responsible for property damage, accidents or articles lost or stolen.
Quiet hours are 10:00pm to 8:00 am
Check in is 2:00pm. Check out is 12:00pm
Generators of any type are prohibited.
One car allowed per site, there will be an extra fee for extra cars, trailers and boats.
Refunds are only issued if the cancellation is 14 days prior to your arrival date minus a cancellation fee.
Campsite fees are for 2 adults and 2 children, any additional guest are $5.00 minimum per person per night.
Alcoholic beverages must be kept at your site. This is a family friendly campground and we ask that you be considerate of others. Public intoxication or abusive language will NOT be tolerated you will be asked to leave the park without a refund.
Remember camping is an outdoor experience. We do not give refunds due to inclement weather.
Please respect the privacy of other campers, do not walk through their campsite or allow your pet to enter their site.
No pools or hot tubs allowed
Please keep your site neat and clean.
All visitors MUST stop at the office and check in with staff and pay for a visitor pass.